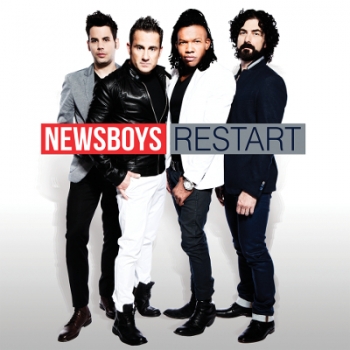 Over the past few years that I've listened to Christian music, I've never really fallen in love with the Newsboys. I mean, there are a few songs that I enjoy from both the Peter Furler days and the present Michael Tait. "I Am Free," "He Reigns," and "God's Not Dead" are all great songs… I've just never felt, from those songs, that they would be anything more than a generic band on album. A couple years ago, I borrowed a Newsboys compilation album from the library once, and I didn't really like it. I never listened to another Newsboys album again…until now. Their new album, Restart, is a great one, and I'm enjoying it very much.

What made me listen to Restart to begin with? Long story short: Winter Jam. Winter Jam is a huge, annual, Christian concert tour that features different bands every year. A couple weeks ago, the tour came to our area, and Newsboys is headlining. I went to the concert, mainly for the supporting acts, but I was mildly interested to hear Newsboys live. As it turned out, I enjoyed a lot of the songs; most of them had more of a rock and techno feel to them than the generic pop I had imagined they would contain. I actually enjoyed the songs enough to go home and listen to their latest album on Spotify, and as it turns out, almost all the songs on their set list are from this album, Restart.
The leading track from Restart, "That's How You Change The World," is actually more of a techno song, and it's got some dubstep in it, which is very noticeable behind the chorus vocals. It definitely started off the album by letting me know that this would NOT be a boring, generic experience, and that I was in for a blast.
The second track, "Restart," is a little poppier, it's upbeat, and it's fun. It's a simple song that seems to be there almost solely because it translates well to a song anyone can enjoy and sing along to at a concert whether they've heard it before or not (read: simple chorus). Usually, cheap songs like this irritate me, but I enjoy this one. Next up is "Love Like I Mean It," which is a little edgier with more guitar riffs. Overall, this song has more of a rock feel than the previous two, and it helps pull all three of the starting tracks together into a nice package which showcases the Newsboys' diversity.
"Live With Abandon," the fourth track, is played quite often on Christian radio, so it's a bit calmer. Don't get me wrong; it's still upbeat, but it's just not as high-energy as the previous three songs. I love the message of this song, as I truly want to give my all to Jesus and let him use me. Sadly, this song is probably the most generic on the album. It's decent, but it's not a standout; songs like this one are the reason why I never paid much attention to the Newsboys until I had to because I was at their concert listening to them live for an hour. Just saying.
"Go Glow" is poppy, and is another one I could imagine Newsboys might release to the radio. There's really not a whole lot to say about it. The sixth song, "That Home," is the slowest and most touching song on the album. At Winter Jam, frontman Michael Tait announced it as a song that oftentimes hurt him to sing, but it has to be sung. It's about his late mother who always cared for him and his siblings. "That Home" is a tribute song that I hope makes his mother proud, because it is a beautiful one with just Michael and an accompanying piano. It makes me glad to know that I have a mother who cares for me as well, and I don't know what I'd do (or where I'd be) without her.
Coming off a song like "That Home" can be hard, but the next song, "Disaster," slowly picks up the pace. It has an almost eerie tune and sound to it, and it goes well with the message of the song; our lives are all big disasters… that is, until we let God change them. Directly following this song is "Fishers of Men," which is one of my favorite songs on the album. It's upbeat, catchy, has a rock feel, and it's got a great message to boot. I especially love the opening line, and the irony in it: "7 billion people on a spinning ball, and they all mean the world to You." As somebody who dissects the English language, I appreciate that line probably a little more than I should. Oh well.
There's not a whole lot to say about "One Word," because it's a bit generic to me. I suppose you could chalk this up to the fact that I generally don't like "worship music" like the kinds they play at youth conventions and during many church services. I mean, they're really similar, they use cliche phrases, sound alike, and they bore me. It doesn't mean that "One Word" is a bad song; it's just not my cup of tea.
I like "Enemy," not because of what it sounds like, but because of what it says. Basically, this song points out that our own worst enemy is ourselves; we mess up, we make mistakes, and if we'd just drop our pride and realize this simple fact, (and that Jesus can save) things would be a lot better in the long run.
As for "We Believe," it is the perfect way to end this album. It's a slower power anthem that packs a definitive translation of the Gospel. Basically, this is the answer to the all important question, "so, what do you believe in?" Tait answers in the chorus by singing that, "We believe in God the Father, we believe in Jesus Christ, we believe in the Holy Spirit, and He's giving us new life. We believe in the crucifixion, we believe that he conquered death, we believe in the resurrection, and he's coming back again. We Believe." I love just how simple that answer is; this is how easy it can be for us to share our faith, people! It's amazing for me to have heard this when I did, because in Bible Study, my youth group is learning how to bring up our faith or explain it to others without being so weird about it, or without being scared. This song… this song is IT.
Well, that's all I've got for you. Long story short, go buy this album. It's great, it's amazing, and I can't believe I held out this long without listening to the Newsboys. My next article will bring you pictures from Winter Jam. I have floor seating tickets to the show in Columbus, Ohio, so expect to see some extreme close-ups of bands and artists like Everfound, Colton Dixon, Lecrae, and of course, Newsboys! Like this post if you've enjoyed, (please) and follow the blog as well (please)! See you next week!
Matt